BIOJUVE LIVING BIOME ESSENTIALS DUO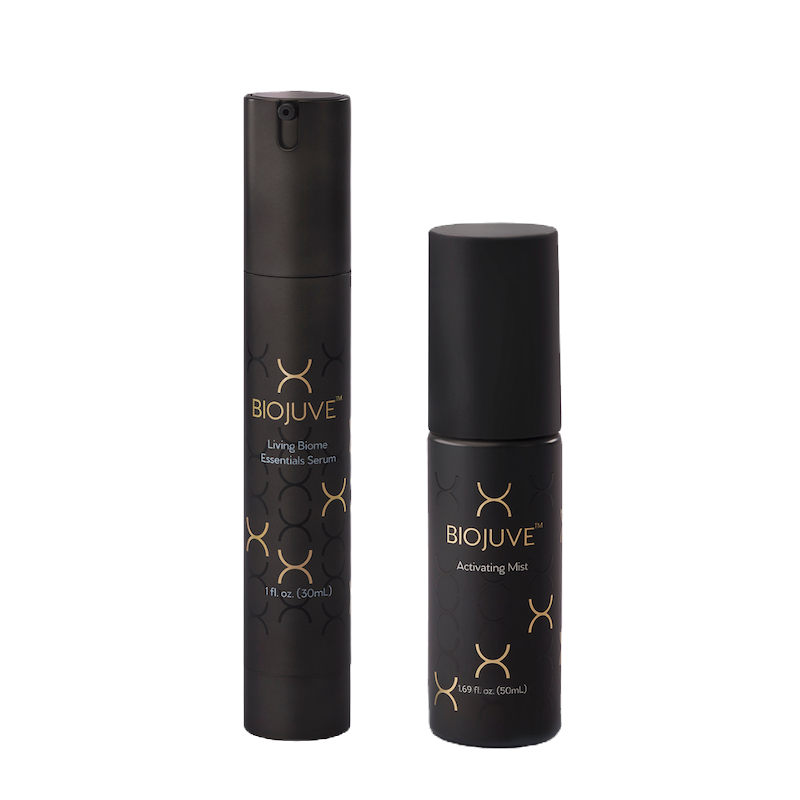 BIOJUVE LIVING BIOME ESSENTIALS DUO
Regular price
$22500
$225.00
NOT RECOMMENDED FOR ACNE PRONE SKIN
The Living Biome Essentials Serum is a smooth and rejuvenating formula that hosts proprietary powerhouse Xycrobe Technology. This living microbe technology was designed to enhance the skin's microbiome and optimize skin health, resulting in improvements in the appearance of coarse wrinkles, fine lines, texture, tone, photodamage, and an overall lackluster complexion.
The Activating Mist included in the duo acts as a complementary "on" switch to activate the living microbe technology found in the Living Biome Essentials Serum.
Size: 1 oz / 30mL 1.69 oz / 50mL
Pro-Tip: Use this a 3x a week to reset your skin's biome.
How to use:
• Apply 1 pump of the Living Biome Essentials Serum to the hand.
• Immediately follow with 3-4 sprays of the Activating Mist.
• Massage gently to clean skin of the face and neck to allow the duo to blend and absorb overnight.
Ingredient List:
Living Biome Essentials Serum Full Ingredients: Ethyl Olivate, Ricinus Communis (Castor) Seed Oil, Polyamide-3, Inulin, Cutibacterium Acnes, Calcium Stearate, Olea Europaea (Olive) Leaf Extract.
Activating Mist Full Ingredients: Aqua (Water), Acetamidoethoxyethanol, Glycerin, Aloe Barbadensis (Aloe Vera) Leaf Juice, L-Arabinose, Sodium Hyaluronate, Beta-Glucan, 1,2-Hexanediol, Caprylyl Glycol, Sodium Benzoate, Fructooligosaccharides, Beta Vulgaris (Beet) Root Extract, Potassium Lactate, Lactic Acid, Potassium Sorbate, Inulin, Alpha-Glucan Oligosaccharide, Citric Acid.
Free shipping with orders over $350
In stock, ready to ship

Inventory on the way