VIVANT DERM-A-GEL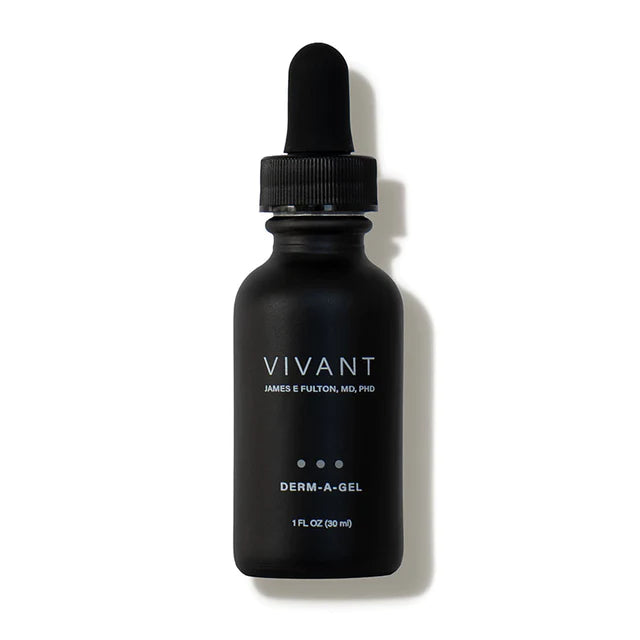 VIVANT DERM-A-GEL
Regular price
$7500
$75.00
A transformative, targeted corrector serum for skin new to Vitamin A treatment. This patented, lightweight formula works to boost cellular metabolism, reduce fine lines, promote a more even skin tone, and clear blemishes, all while nourishing skin with anti-inflammatory and moisturizing ingredients.

Skin Type: Recommended for All skin types. Best for skin new to Vitamin A therapy.

Ideal for: Acne, sun damage, dull or uneven skin tones, age spots, wrinkles and rough or leathery skin.
What You'll See: Skin immediately starts to repair. When used daily, skin will take on a rosy glow, and you will notice a more consistent skin tone, refinement of pores, and overall smoother, firmer appearance. Benefits can be seen in less than two weeks. 
 What You'll Feel: Slight peeling or flaking and tingling sensation as skin acclimates is normal and indicates the product is working. If excessive drying, redness or peeling occurs during the first two or three weeks, skip treatment for a day or two, then restart slowly. 
 What You Should Know: If skin shows no reaction, increase usage to twice daily, or move up to the next level of Vivant's vitamin A therapy. You should experience some light peeling every week.
HOW TO USE: Use following cleansing and toning steps, when skin is primed for optimum product penetration.   
 Frequency: Up to twice daily - AM and/or PM. Begin usage every other day and gradually increase to daily application. (See skin type considerations below for more specifics.)
 Method: Apply an even layer over the entire face, neck, and décolleté (no spot treating). Allow serum to dry briefly before applying additional products or makeup to skin. 
 Considerations:
Normal or Combination Skin
Start using a Derm-A-Gel® every other night for the first week to ten days, then gradually increase to twice daily. 
INGREDIENTS: Water, Glycereth 26, Sorbitan Sesquioleate, Retinyl Propionate, Ethylhexyl Dimethyl PABA, Carbomer, Kojic Acid, BHT, Propylene Glycol, Sodium Lactate, Sodium PCA, Glycine, Fructose, Urea, Niacinamide, Inositol, Sodium Benzoate, Lactic Acid, Disodium EDTA, Polysorbate 80, Sodium Hydroxide, Ethylhexylglycerin, Phenoxyethanol
SIZE: 1 oz
Free shipping with orders over $350
In stock, ready to ship

Inventory on the way